The IT infrastructure plays an important role in today's business environment. Many organizations choose IT consulting services to access experts, the finest resources, and assets. Moreover, companies can achieve scalability, focused development, and everything at an affordable cost. The IT outsourcing market will be $1070.28 billion by 2025. It is estimated to increase at a CAGR of 8.4%.
The value of IT outsourcing companies varies according to the methodology they use to render services. Before jumping to take the IT outsourcing services, you must check the pros and cons of IT outsourcing.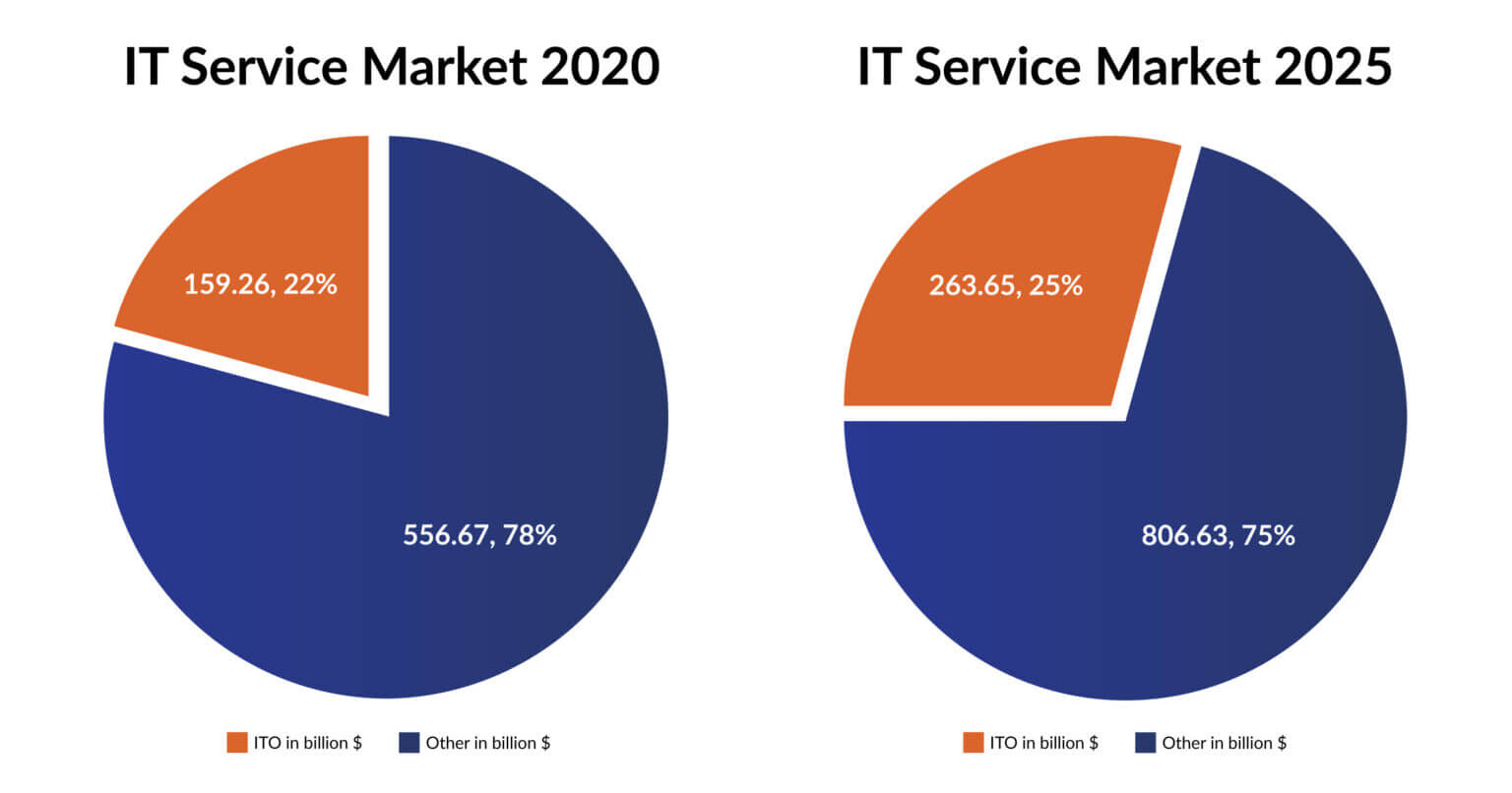 Pros and Cons of IT Outsourcing
Companies are fully aware of the benefits of IT outsourcing, but there are always two sides to a coin. There are a few disadvantages associated with outsourcing IT functions too. This comprehensive guide will highlight the pros and cons of outsourcing your IT needs.
Advantages of IT Outsourcing
Minimized Cost
Building a full-fledged running business is not child's play. From investments to upgraded tools, everything goes into establishing a company. These things are stressful, and your IT department will need more resources. As technology changes, you must upgrade your tools, train your staff constantly, and get new software. You can curb these extra expenses by hiring an IT outsourcing company that will provide customized services. They will help you achieve your business goals using the right technology stack and experience for your project.
Range of Quality Resources
The major motivation behind IT outsourcing is cost-effectiveness. Nearly 49% of businesses are widely choosing professional IT outsourcing companies. 46% of the company owners are outsourcing the services because of the versatile skill set they couldn't hire in-house.
When companies outsource IT outsourcing services, they get access to upgraded IT tools and software. The expertise is quite versatile. You will get the talent pool to sort your cloud computing issues, networking issues, and software development using modern technologies like AI, ML, IoT, etc. Company owners can reap all the amazing benefits within their budget.
Save Time Hiring Individual Experts
'Time is money' fits in rightly when companies understand the value of focusing on core competencies and the benefit of outsourcing IT services. There are pre-approved specialists on the team. They will be carrying out the research and curating the specialized software from scratch. By hiring the top software development company, you spend less time training developers and procuring the tools. Moreover, the time taken to hire a full team is less than you need to hire an individual expert hiring one of the experienced IT consulting firms
Flexible and Scalable Team
When bringing in an in-house team will create more hassle and challenges. For your next project, you will get scalability and flexibility. The staff of the outsourcing team is scalable, as you can bring in more members to take on new projects. The teamwork is flexible, as experienced members will accomplish the project without any need to train new employees.
Access to the Latest Tools and Technologies
Are you sure your in-house team is aware of updated IT tools and technologies? If not, outsourcing an IT team for the whole project is a better idea. They will keep data security in mind and provide backup and Wi-Fi solutions. These experts are abreast of the latest technologies like AL, MI, IoT, RPA, etc. From PC to server maintenance, they will do everything to provide peace of mind and data security.
Boost Productivity and Strike the Market Quickly
Instead of burdening your internal team with everything, hiring an IT consulting company such as BoTree Technologies will provide a full technology stack to improve your productivity. You will have a variety of specialties at your discretion to accomplish the project quickly. The turnaround time to the market of these outsourced IT providers is also less.
They do not compromise on quality, so you can rest assured. World-class technology and tools are used to offer you high-value software products. The outsourcing IT team's agility factor helps your organization adapt to the market and stay over and above the competition.
Disadvantages of IT Outsourcing
Communication and Culture Issues
One of the important pros and cons of outsourcing your IT department work is that distinct experts from various cultures are ready to put in their expertise in a project. However, this may pose a conflict because of a lack of communication due to language or cultural differences. The only solution is to set a standard communication language, English. It will help make the whole team understand the requirements of the end users.
Less Overall Control
Outsourcing firms have full-fledged control over your project. This prolonged control can sometimes lead to miscommunication, extended timelines, and budget overshoots. You cannot leave all the operational details too. To extend your control over your project, tie up with an IT outsourcing company that provides a detailed report from the beginning to the end of the project. The team is ready to listen to your needs and requirements if any changes are needed.
Expertise Built Outside Your Company
This point falls under the most important pros and cons of IT outsourcing, where the advantage is you will get the ready solution to your project. The con is the expertise remains outside. No coordination and communications are fully done on the tools and technology stack. So, choose your outsourcing partner wisely. Ensure they can train your technical staff and give access to tools and technical repositories used for project development.
Security of Your Business Idea and Data
When hiring an IT outsourcing provider for designing enterprise software applications, you must provide essential organizational data. It gives third parties access to your company's data. To sort out this situation, ask the service provider about data security and how they will process and store it. Do a proper background check on your own too. It will help you safeguard your company from any potential malware attack.
Hire the Best IT Outsourcing Provider!
IT outsourcing service provides you with a competitive advantage over your competitors. You get a modern technology stack and experienced experts. Before hiring an IT outsourcing provider, review the list of outsourcing IT pros and cons to get a proper insight.
Engage quality tech professionals from BoTree Technologies for proper digital transformation and quality results. They have an advanced and scalable technological ecosystem to keep you ahead always.
Contact BoTree Technologies experts today to bring your software vision to life!