Retail branch banking is going through a digital metamorphosis. Today, banks are moving towards FinTech innovation and Artificial Intelligence to deliver fantastic user experiences. It is helping them reduce losses due to fraud, personalize the banking experience, and democratize financial advice. As more people adopt digital banking, traditional retail banking will change in favor of the digital world.
Citibank launched its mobile banking app in 2018. The goal was to create a digital product that acts independently rather than as a supplement to the website and the physical branch. So it conducted a survey with 50,000 customers to understand what features they need the most.
Today, thousands of customers use the Citibank mobile app for digital banking and investing. Customer-focused information allowed them to understand what ticks banking in the digital world. End-user adoption of its mobile banking app increased as new features rolled out. Finally, it made the app a full-fledged banking solution for customers.
JP Morgan is another bank spending hundreds of millions of dollars on FinTech innovation. The bank massively invests in Artificial Intelligence (AI) to ensure smooth operations. In 2021, JP Morgan reported that because of AI in digital banking, they could bring down losses due to fraud by 14%. It also has an in-house data platform to support engineers and developers for standardizing AI development across the bank.
(Source: CBInsights)
The Impact of Digital on Retail Branch Banking
65% of the US population used digital banking services from 2018 to 2022. The rise of mobile banking and neo-banks is a significant cause of this growth. As a result, it is expected that in the next decade, digital banking users will multiply much faster than the previous one.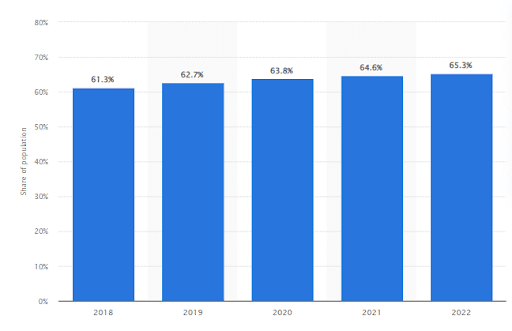 Banking and financial services executives reported that AI helped them reduce the production cost in retail branch banking by 13%. They also stated that revenue increased by 17% in their AI initiatives. As Artificial Intelligence and data operations grow, banks are set to witness a transformation in digital banking.
35% of global banking executives report success in their digital banking initiatives. In the digital world, these will be the leaders in the industry. As banking moves online, more and more banks will switch to future-ready technologies like AI to achieve digital transformation in retail banking.
Read more: Pursuing a New Future of Innovation through Digital Banking Solutions
How FinTech Innovation and AI are Helping Retail Banking?
FinTech Innovation is reshaping the retail banking landscape. Today, banks need to be more customer-centric than ever before. New-age technologies are bringing customer experience to the forefront of FinTech and digital banking.
Understanding the customer journey is an essential aspect of FinTech innovation. Banks are exploring the different pain points of customers and utilizing digital banking to serve their needs at every touchpoint. Self-service channels may be a FinTech innovation challenge but reducing complexities in banking interactions is a crucial goal for several banks.
Here's how Artificial Intelligence(AI) is helping retail branch banking-
Improving Fraud Detection
Artificial Intelligence enables banks to improve the process of detecting fraud. FinTech app development services providers build apps and solutions that can quickly identify fraud. AI algorithms run through datasets to identify patterns that may cause vulnerabilities in the system. They also notify the team whenever there is an anomaly in the system or unusual behavior that may look like a cyber threat.
Enhance Customer Experience
Improving the client experience is crucial for banks. Technologies powered by AI can offer users highly customized experiences. Bank-customer interactions and communications are changing and being reshaped by intelligent voice and chatbots, unavailable in the pre-AI era. Personal digital assistants enable customers to access a multitude of information on budgeting, retirement savings, and more, all personalized to their banking needs, much like an Alexa for banking.
Democratize Financial Advice
Consumer banks have a chance to democratize financial advising – thanks to AI. Today, most financial advice is provided by pricy financial consultants to wealthy people who, ironically, may not need it as much as those with lower incomes. When they swipe a card or pay someone, regular customers leave money breadcrumbs everywhere. However, nobody is snatching up the pieces and giving them advice. Consumer banks might offer familiar consumers financial advice to set themselves apart from their rivals. Additionally, banks may provide such guidance for a much lower price with AI services in place.
Ready to streamline your loan management process? Contact us today to learn more about our loan management system and how it can benefit your business.
Conclusion
The FinTech revolution based on AI is here to stay. Innovations and AI combine to deliver exceptional customer experiences and services. Today, more and more banks are moving towards digital banking initiatives to support their operations. FinTech companies like Tntra Engineering offer solutions that allow banks to transform into digital banks and transform their retail branch banking.

As more and more customers adopt digital banking, it will become essential for banks to seek a software product development company like Tntra Innovation for software solutions. In addition, FinTech app development services will increase as digital banking becomes a global priority.