In 2016, Shieldpay became a solution to enable secure payments for the legal, financial, and professional industries. It is one of the top new economy companies whose goal is to prevent fraud in peer-to-peer transactions and allow service providers to transact with 100% confidence.
Shieldpay offers an easy digital escrow facility that keeps the funds and releases them only when both parties agree. It was invented to solve the fraud problem in traditional payment systems. Its goal is to simplify buying, selling, and paying safely.
Nethone is another SaaS company in the FinTech market that allows financial institutions and enterprises to prevent fraud through Machine Learning. It offers online user profiling and uses ML technology to ensure payments are free from vulnerabilities.
Nethon's proprietary profiler adds over 5000 attributes, which then process into real-time recommendations by a decision engine. As a result, it reduces the client's rejection rates, decreases manual review costs, and prevents fraud without any modifications to the UX of the service.
(Source: TrendScout)
The Impact of FinTech on New Economy Companies
In-store mobile payments are estimated to reach $125 billion in the US by 2025. With the increasing adoption of mobile finance, in-store payments are moving from cash to digital.
Peer-to-peer lending is expected to rise to $567.3 billion by 2026 with a CAGR of 26.6%. Incorporating Blockchain Technology in P2P lending enables secure and simplified transactions by allowing transparency between parties. As a result, Blockchain is also one of the fastest-growing segments in the FinTech industry.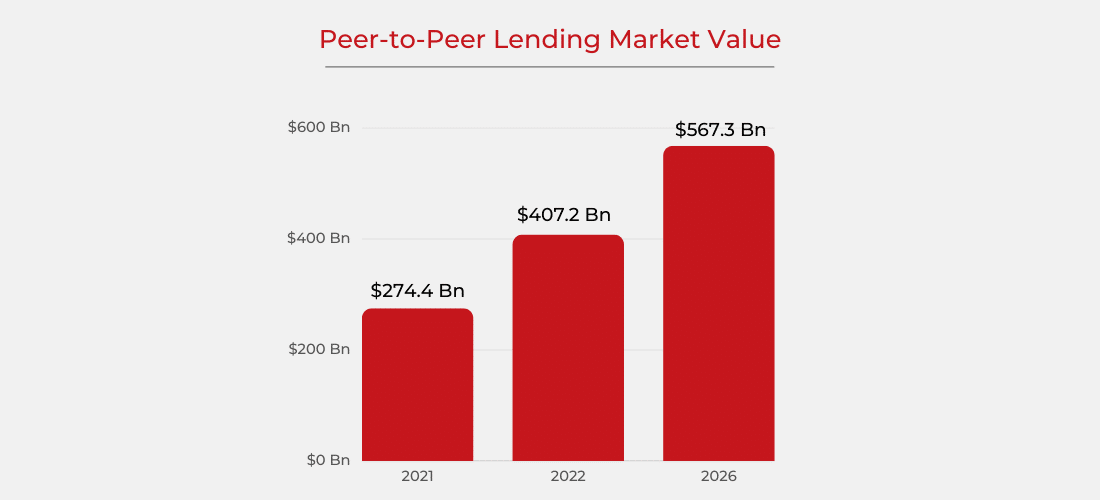 AI-based fraud detection systems might minimize the time in fraud investigation by 70% and increase accuracy by 90%. As a result, AI is a powerful tool for FinTech companies that are making waves and set to disrupt the market.
FinTech Business Potential in The New Economy
FinTech is powering the new economy by financially including previously excluded populations. Digitization is bringing money closer to people who once struggled to access finance. Inclusion enables people to exchange money quickly without visiting banks and branches where they can get stuck in queues for simple payment.
According to the World Bank, FinTech has allowed over 1.2 billion unbanked people to access finance. It has helped micro-merchants and small business owners to support their operations without too much hassle and earn a livelihood for their families.
There lies great potential for new economy companies to integrate FinTech software and become a part of the ever-growing industry. How can they unlock new business potential in FinTech? Let's find out.
Disrupt with contactless payments

While the pandemic drove the growth of contactless payments, companies need to bring these FinTech services to the center stage. People are switching to contactless payments for various reasons – safety and the convenience of not carrying their wallets with them.
As a result, New Economy businesses that focus on payments through QR codes, NFC, mobile numbers, etc., have a better chance of maximizing their market share.
Increase access with P2P lending

Another opportunity lies in the lending sector as P2P becomes a priority for financial companies. As cybersecurity multiples, trust in P2P lending increases, and lenders are willing to take more risks to get a higher return on investment.
Prosper is one of the top new economy examples that offer P2P services. The market is expected to grow rapidly as P2P is a great driver for financial inclusion in the economy.
Provide high returns in investing

Traditional banks provide low returns on investments, which led to the rise in startups that invest money for higher returns. Robinhood is one of the top FinTech platforms that allow investors to trade without any commissions and helps to multiply returns.
Mobile investing has also enabled many people who couldn't trade earlier due to the complexities involved in manual operations.
Simplify accounting for small businesses

One of the top benefits of the new economy is that it provides small businesses with a space to thrive. While they have access to finance, small businesses also require accounting solutions that can help them manage their finances.
Cloud-based SaaS solutions for small businesses are transforming how they manage their money and keep track of their records. Financial tools assist them with managing payrolls, payments, and receipts leading to better business management.
Utilize data and analytics in FinTech

Big and predictive analytics continue to revolutionize the FinTech industry. Along with AI and ML tools, data and analytics provide insights that are useful to keep up with industry disruptions.
Additionally, AI is creating waves because of its utility in preventing cyber fraud in the FinTech industry. A software product engineering company that offers AI services can help startups utilize data and analytics to their full potential.
Conclusion
FinTech is transforming finance as we know it. In the New Economy, where innovation drives the industry, FinTech will play a crucial role in financial inclusion, digitizing finance, and offering easier access to capital to businesses. FinTech companies hire experts in product engineering services to build disruptive technologies and software that can create value in the New Economy. Whether it's contactless payments or Artificial Intelligence to prevent fraud, FinTech will play a major part in defining the future of the new economy.